Invisalign treatment at Aesthetic Dentistry of Rockland County
Here at Aesthetic Dentistry of Rockland County, we are proud to offer a wide variety of cutting-edge treatment options for all of our patients in Rockland County and neighboring locales. Our caring and skilled dental team is dedicated to providing treatment plans individually tailored to each patient and their unique needs.
In the past, about all we had to straighten teeth was traditional braces that you are likely familiar with growing up. Although there is definitely a stigma about this treatment, braces have come a long way in recent years. They are now smaller and more attractive than before, while being as effective as they ever were in efficiently straightening teeth. However, a more modern technique called Invisalign is a popular option among dental patients who prefer a less obtrusive treatment option. Dr. Natalya Petlyuk, a cosmetic dentist at Aesthetic Dentistry of Rockland County is a certified Invisalign provider, creates beautiful smiles using Invisalign and other modern techniques.
Invisalign Therapy
Invisalign is a modern technique for straightening teeth relying upon the use of special custom-fit aligners. These aligners are made of a clear plastic that is virtually undetectable in the mouth. The aligners are designed to be removable whenever the patient needs to eat or clean their teeth.
Periodically, you will be swapping out your current set of aligners with new ones to ensure that you are making progress on your individual treatment plan. You must wear your aligners for about 22 hours a day to stay on course with your plan. Patient compliance is important with Invisalign since the aligners can be removed at any time, and it is up to the patient to put them back in.
Plan on visiting your dentist every few weeks so that your progress can be monitored and your treatment modified when necessary. At the conclusion of your Invisalign treatment expect to get retainers in order to prevent a relapse.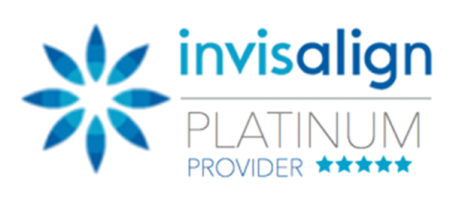 Invisalign Cleaning Tips
In addition to maintaining proper oral hygiene, you will need to regularly clean your Invisalign aligners. Take care that you are rinsing them thoroughly as soon as you remove them. This keeps saliva from drying onto them and offering a breeding ground for bacteria. After removing your aligners, you need to be brushing and flossing your teeth to remove any food debris that attracts bacteria.
Advantages of Invisalign
Patients just love the way that Invisalign offers them greater freedom and flexibility than traditional metal braces. Forget about food restrictions. You can simply remove your aligners at any time to eat whatever you want. Contrast that to traditional braces where you must avoid eating anything hard or chewy.
Another advantage of Invisalign is that its removable aligners make it easier to keep up with your oral hygiene regimen. With traditional braces, it can be difficult to brush and floss around wires and brackets. Invisalign aligners can be removed for normal brushing and flossing. The aligners themselves are also incredibly easy to care for. Special kits are available for cleaning them, or you can gently brush your aligners using a soft toothbrush with toothpaste.
After Invisalign Treatment
No matter what type of orthodontic treatment you undergo, your teeth always somehow remember their previous spots in your mouth. In time, they can begin to naturally start drifting back into their former positions if nothing is done to prevent it. This is why retainers are so important to achieve long-lasting results. You will be provided with a retainer at the conclusion of your treatment. Be sure to wear it as directed by your dental team to ensure that your newly straightened smile lasts for many years to come.
Is Invisalign for everyone?
The Invisalign system is most appropriate for teens and adults with all of their permanent teeth. It also works best when it is used for the correction of mild-to-moderate orthodontic problems. In the case of a more severe problem requiring precision tooth control, this system may not offer you the results that you need.
Your Invisalign Treatment
Are you wondering if you qualify for Invisalign treatment? If you'd like to see for yourself what Invisalign can do for you and your teeth, please contact the office of Aesthetic Dentistry of Rockland County today to schedule your Invisalign consultation.